You're having a baby! Or you already have a baby! Either way that's awesome. ?
With babies comes TONS of stuff and on the top of the pile of stuff is clothes.
SO MANY CLOTHES!
We started getting baby clothes given to us before I was even showing.
We were getting clothes for every size and every season. It was really exciting. I loved going through all the adorable outfits. We got a bunch of second-hand clothing given to us as well which was great because I love reusing and repurposing things. It was exciting to get all of those baby things!
But the more stuff we got, the more places we needed to find to put all this awesome stuff. I love organizing and I love the creative aspect of it. It was exciting for me to be able to think and dream about how to organize all this new baby stuff. However, I know not everyone has that, ooh, yay, I get to figure out where to put all this new stuff feeling. That's what I'm here to help you with. Hopefully, you can glean some ideas from the methods I have used myself to organize my daughter's things.
I knew I wanted to find a way to store the clothes for different seasons and the sizes that our daughter hadn't grown into yet. I also wanted to find a way to store the clothes that she was currently wearing so that they were very easily accessible. I didn't want to have to go digging through bottomless pits, otherwise known as drawers, to find the one onesie that I wanted her to wear or to find a matching outfit.
Solution: CUBBIES
My first thought was cubbies. I love cubbies. And the bins are smaller than drawers, which makes them a great alternative. I'm not a huge fan of drawers. Have I mentioned that yet?? Bins are smaller, so less things get lost within them. Bins/cubby spaces also give more options for categorizing your items therefore making them easier to find later.
For several years I worked for a wonderful family as a nanny. The mom was very creative with how to store baby things. She used a cubby system as a changing table, which I thought was amazing. I knew the moment I saw it that I was gonna steal that idea. Which I did.
The moment I found out we were pregnant, I started planning and looking for a large enough cubby system to work as a changing table. Once I started to think about all the clothes storage we would need, I thought "This is perfect. We're gonna use these cubbies for the baby clothes and it'll be our dresser and changing table all in one."
Side note: This is part of my reuse and repurpose mentality. Once my daughter has outgrown the need for a changing table we'll have a cubby storage system to use where ever in the house it is most needed. For more about reusing and repurposing for organizing check out: Organized Kickstart – Step 3
The cubby system/diaper changing station was my solution for storing my daughter'ss current size clothes. Thinking about storage for her seasonal and next sized clothing my thought went immediately to plastic tubs.
That's the gist of our "clothing storage system" quote-unquote.
Below I'll go into much greater detail about how I organize our baby's clothes by category and what systems we use to make them accessible.
Keeping Clothes Accessible
When I think about baby clothes, several categories come to mind.
1. Onesies – long and short sleeve
2. Pants
3. Bodysuits
4. PJ's
5. Sleep Sacks (if you use them)
6. Sweater/Jackets
7. Dresses/Fancy Clothes
Since I'm using a cubby system to organize these clothes, technically, I have enough cubbies where I could do one cubby for each category of clothes, BUT I like to maximize my space. I planned to use a limited number of cubbies for clothes so I could use the other cubby spots for books, toys, and blankets. Plus, baby clothes are really tiny, which makes them adorable and means they take up less space. So instead of using an entire 13 by 13 inch cubby for seven tiny adorable pairs of baby pants, you can use a smaller container that fits within that cubby to store the pants. Depending on the container that you choose, you should also be able to put multiple containers in each cubby space allowing for several different categories of clothes to be stored within one single cubby space.
Organizing Tools
This is where I got really creative. I went to one of my favorite places, the dollar store.
On most occasions for my trips to the dollar store, I have a project in mind, but I don't necessarily have a specific item that I'm looking for to use for that project. But I do have a specific concept in mind for the space I'm working on. In this instance, I was looking for something that would fit within this 13 by 13 inch cubby space that would also hold baby clothes, but in a way that would allow me to put multiple categories of clothes into one cubby space. So my concept going into the dollar store was that I wanted to find something that would either stack or fit side by side within the 13 by 13 inch cubby space. I was also looking for an item that would allow me to fit two to four different categories of clothes within one cubby space.
Did I find anything at the dollar store to fit my criteria?
Yes, I did.
I was really excited when I came across these magazine holders.
The magazine holder pictured above is made of thin cardboard but has held up surprisingly well. However, if you have small children who will be handling these I would recommend the plastic ones.
The magazine holder pictured above is made out of plastic and has worked great for this organizing project.
They fit perfectly within the cubby space, and I could fit three to four of them within each cubby. I could put each category of clothes into its corresponding magazine holder. It was the perfect fit, and a no brainer as far as organizing and maximizing space is concerned.
I saved so much space that I was able to split my short-sleeve onesies and my long sleeve onesies into two separate magazine holders, which made it even quicker to grab whichever one I was looking for when dressing my baby girl. We all know that infants aren't the most patient creatures on the planet. Being able to grab something quickly is really important and helps everyone stay a little less stressed.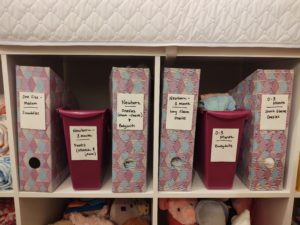 I think of myself as a pretty organized person. Once my daughter came along, as every mother knows, sleep was hard to come by and with lack of sleep comes loss of brain function. Mommy brain is a real thing. That's all I'm gonna say.
Even though I knew everything was going to be nice and organized, I wanted to make sure that everything was also labeled. I did this for mommy brain and for the convenience of my husband who is amazing and wants to help with anything that he possibly can. So in order to make it easier on both of us, I wanted to make sure everything was labeled even down to the bibs and burp cloths.
Each bin and magazine holder was labeled with what was in it and the size. Making it super easy to find something even if it's at two o'clock in the morning, and you certainly don't want to read but you want to go through piles of clothes even less. Having things labels was a must.
All I used to make these labels were cut in half index cards, a marker, and something to stick them to the magazine holder. No fancy label maker necessary (although they are wonderful).
Once I had each magazine holder labeled, I put them in order and ease of reach depending on what the category was and what made sense to me. For example, I knew that I would want to have sleepers close by in case we had a middle of the night emergency. That's the technique I used for how to decide where to specifically place each magazine holder in its cubby space.
Seasonal and Next Size Clothing
To organize clothes that aren't currently in use, I use medium-sized tubs. They're bigger than the bins that you use in the cubby systems, but they're not huge like what you might use for Christmas decorations, for example.
I actually keep several of these plastic tubs right in my daughter's closet, which makes it easy to grab them and see how many 12 months size clothes I have for my daughter or how many blankets she has for this winter, for example.
Currently, I have three of these tubs in my daughter's closet.
Tub #1 is for clothes my daughter will be growing into, including seasonal.
Tub #2 is for clothes that she has grown out of and I plan to keep for possible future children or for giving to someone down the road that I find out needs something.
Tub #3 is actually for pregnancy items or pregnancy clothes that I'm going to keep for if we decide to have another child.
I also have a small cubby sized bin for my daughter's immediate next sized clothing. For example, say she's in 0-3 month clothes right now. I'm starting to build up her wardrobe for size 3-6 months. Instead of putting 3-6 months in the big bin that might have clothes all the way up to 18 months. I put them in a bin all their own with only clothes for ages 3-6 months, so I know exactly what she has and what else she needs. This is also useful if she goes through a huge growth spurt. I know exactly where I can just grab an outfit if she needs it; from the 3-6 month bin.
Side Note: I know that sometimes kids can go through growth spurts so big that they practically skip an entire clothing size. Personally, I'm of the mind where I'd rather be prepared with each clothing size ahead of time so that I feel ready to handle anything and I don't have to worry about them not having clothes to wear. So I'd rather have the entire wardrobe for one size, even if she doesn't wear it for that long. That's how I like to do things. You have to find what works best for you and your family.
That being said, I also buy essentially, all of her clothing secondhand. There's a wonderful secondhand consignment shop called Once Upon a Child that sells exclusively children's secondhand clothes and toys! There are several in my area. I'm not sure how national they are. But I'm sure you'd be able to find something comparable in your area or even simply a Goodwill or Salvation Army or any thrift store that has baby clothes.
The trend for myself is to gradually buy her a wardrobe in her next size. So going back to our example, I would buy enough clothes for her 3-6 months size. I would store them until she's ready to wear them. Theoretically, if she skips that size altogether, I can still save them for our future children or I can take them back and I won't be out all of my money. Because I bought them secondhand to begin with, I already saved a huge amount of money compared to if I had bought everything retail.
If you've been through my organizing plan, Organized Kickstart then you know I love to reuse and repurpose things. For me, that goes for clothes too.
To go along with repurposing clothes and using secondhand items, I usually keep a bin or a bag for clothes that I know I'm not keeping. Things I'm going to give away or give to a thrift store or even take back to Once Upon a Child and get a little cash to put back into the next size of clothes for my baby girl.
That's how we organize baby clothes in our house. I hope it gives you ideas to implement into your own organizing system.
Let me know in the comments what you're doing in your home to organize your baby's clothes.